Five industries will be completely transformed with the help of AR Technology. These are retail, healthcare, gaming, real estate, and tourism. Every year, the number of companies that use this technology to improve the customer experience grows. The Banuba AR web page features products that can be ordered from the software developer. In each case, the specific characteristics of the company are taken into account.
5 Industries that Use AR Technology
In 2022, we see a transition to the digital economy. There is an augmented reality SDK, a product that has a positive impact on the promotion of goods and services. With its help, user engagement improves, which facilitates the growth of sales. The advantages of the AR introduction have already been successfully proved by the internationally renowned brands, such as L'Oreal, IKEA, LEGO, and Gucci.
Here are five examples of how business representatives can use AR. The technology is successfully taken advantage of in retail, education, and other spheres.
Retail
This is one of the most profit-making niches since most consumers purchase goods at retail stores. Vendors can use the virtual fitting features for sunglasses or fashion garments. Customers only need to use cameras in real-time.
Augmented reality helps potential customers make an informed decision on whether to make a purchase. When selling fashion items, sunglasses, or beauty products, the engagement of potential customers increases. On average, the conversion rate increases by 40%.
An example is the Italian fashion house Gucci. Customers try on clothes and accessories before they make a purchase. Customers of American Apparel scan items in the store. Reviews, prices, sizes, and garments are displayed in real-time. In the latter case, you can watch videos of the models wearing it.
Such a popular brand as Watch Box has launched a virtual watch fitting. Potential customers can see how the advertised models look on the wrist.
Healthcare
The industry makes extensive use of products developed with augmented reality technology. They are created to facilitate the performance of medical professionals. Mature concepts are grouped into interactive and engaging three-dimensional forms. The work of staff during complex surgeries or MRIs is improved.
One example is Med Cognition. It is a medical-scientific company that combines healthcare and business. It has launched a comprehensive Per Sim simulator for pre-hospital care providers, including the first intervention team, paramedics, nurses, and doctors.
They wear augmented reality glasses while working with virtual patients. Cramps and sweating are simulated. The specialists master the skills they need in case of major disasters.
Gaming Industry
Banuba AR has been successfully used in game development. It is one of the first markets where augmented reality has been utilized for entertainment purposes. You can read the IMARC Group's research. It is estimated that by 2027 the total value of augmented reality games will reach $38.03 billion. In 2021, the figure was much lower – $6.39 bln.
The reason for the growth is the daily increase in the number of players. Advanced technology makes users' experiences more interactive. Users can compare virtual objects with real ones.
Examples include such a game as Pokémon Go where customers search for fantasy creatures. They are created with augmented reality. It is enough to use smartphone cameras. In 2016, 750 million users chose the product. In 2021, there were 905 million users. Figures show the popularity of mobile games and the prospects for their development.
Real Estate
Augmented reality technology is widely used in the real-estate sector. This tool helps to improve the presentation of apartments and houses that are shown to potential clients remotely. There are four special features:
virtual tours with step-by-step user guidance are developed;
AR-based tools are created for remote sales;
every room inside an apartment or house is visualized;
the interior can be viewed in real-time.
Participants in the real estate market get a powerful technological incentive. More than just virtual tours can be introduced. The use of the product is limited by the customers' discretion. It is suitable for the following specialists:
designers;
housing inspectors;
architects;
realtors.
There is the Magic Plan that makes it easier to review software for real estate projects. The product is used to plan the floors during construction. Professionals are able to make estimates. Approximate furniture arrangements can be also performed remotely.
Tourism and Travel
The travel industry makes extensive use of AR technology. Customers can access 3D models and interactive maps. The requested information is displayed in real-time. These are popular attractions, places of interest, parks, monuments, restaurants, and hotels. For this purpose, the developer utilizes such a feature as object recognition.
Current Augmented Reality Ideas
There are augmented reality ideas and concepts that a software developer can implement in the near future. Innovations appear every week. According to Statista, this technology has more than a billion users worldwide. They use goggles or cell phones. Marketing Dive claims that only 15% of companies are deploying augmented reality. Their number may increase as marketing experts compare a company's results with those of its competitors.
32% of chains have plans to implement AR. Such world-famous companies as Adidas, IKEA, and Macy's have already done so. The number of startups in the gambling industry is also increasing. Augmented reality technology is also being implemented by businesses and the healthcare industry. It is believed that revenue from the advertising of augmented reality products will exceed $2 billion by the end of 2022.
When analyzing the future prospects, keep in mind the 7 trends
This technology will be indispensable. By 2023, it will be used by more than 400 million people who access innovations from their cell phones. For example, the Banaba Face AR SDK can be integrated on smartphones with Android and iOS operating systems.
Meta universes (virtual worlds that are created by computers) will be introduced. Platforms that enable users to meet, play, and communicate through avatars are becoming available online.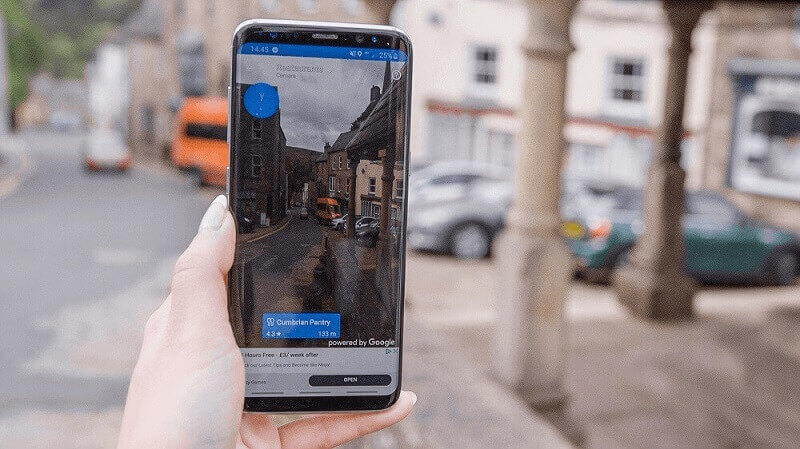 Growth of online sales. The characteristics of selected products will be reached with a single click on the image. The purchase is also a single-click effort. Shopping is combined with virtual fitting and other modern technologies. For instance, in China, 10% of purchases are made in online stores.
The popularity of TikTok videos will increase. Competitors make efforts to replicate this platform's capabilities, for instance, by making facial masks available.
Ground-based shopping centers will expand their capabilities. It is intended that physical sales will be combined with digital technologies, for instance, smart mirrors, photo booths, and virtual fitting.
Production technology will undergo changes at the factories. The innovations will affect the training of new employees, item recognition, the introduction of artificial intelligence, and remote collaboration. Engineers can plan production cells, thus minimizing labor costs.
Introduction of augmented reality into browsers. The advantage is relatively low costs. Built-in features can include video calls, navigation, and e-learning.
Conclusion
Augmented reality development is an opportunity to reap benefits that opens up for major industries, such as retail, healthcare, game development, real estate, tourism, and travel. Retailers take advantage of Virtual Try-On, which is remote trying on clothes, handbags, or glasses. This software product is also suitable for the promotion of beauty products.
It can be combined with AR face filters to correct expression wrinkles and other facial imperfections. Banaba Asset Store offers more than 600 built-in filters.
5 Industries that will be Completely Transformed by AR Technology